A doubtless fact is that a kitchen is the heart of any home. Here, people gather to cook, eat and spend quality time with their loved ones and friends. Nowadays, dining rooms are built next to the kitchen. Hence, it is a perfect place to enjoy your meal. The place becomes cozier if you add perfect lights. And because you are here to learn how to pair kitchen and dining lights, this page is meant for you. Read to the end to understand this and many more.
3 Helpful Tips on How to Pair Kitchen and Dining Lights
The contrast itself is gorgeous. Hence, interior designers should not use the same lighting fixture in the kitchen and dining room. This is because it will look too uniform. Rather, design experts should choose several different light fixtures that will work together. The following three aspects will help you to strike a bright balance.
Surface area: kitchen table and Kitchen Island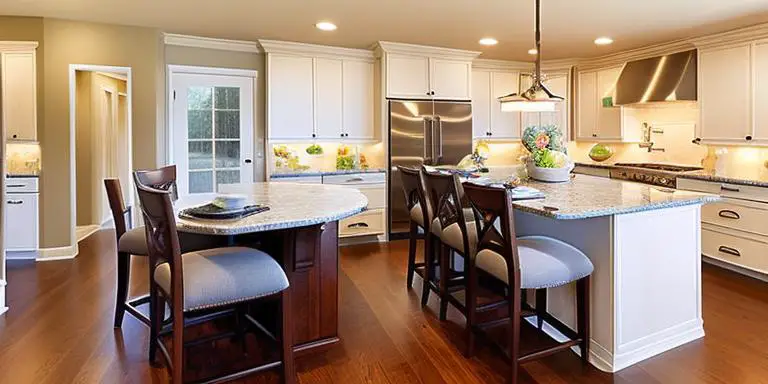 Nowadays, you realize almost every modern home features an island. The role of these places is for food preparations. Otherwise, you can use it to put on your buffet table. Unfortunately, it can confuse you when it comes to lighting.
If the room is big enough, installing a trio of pendants for kitchen island lighting is wise. You can use dimmable bulbs that are energy efficient. The right way to hang them is 30-36 inches above the island.
On the other hand, it is advisable to pay attention to the style. Ensure the lights do not cause challenges to your view. Also, they should not hang too low to avoid hitting someone's head as they pass by.
The lighting plan is another thing you should consider when designing your kitchen. They should not be identical when it comes to shape. However, it is advisable to go for fixtures with the same color or material.
Finish
If you are looking forward to achieving a daring look, consider using a similar finish on different lighting fixtures. Some of the major finishes you can find for kitchen and dining room lighting are as follows.
Silver– Available in forms like silver leaf, vintage, antiqued and champagne. When you choose a Belfast sconce and clay chandelier, your kitchen will have an edgy feel.
Gold- gold is known to add glitz to a gourmet kitchen. Typically, there is nothing richer than gold. You can achieve the best look using Gracie Chandelier or Gabby's Sandra Chandelier.
Bronze- Note that lighting made of timeless bronze happens to exude beauty and warmth. You can consider using a dark ida pendant, ethereal or two-tone franklin pendant.
Form
Look for the same lines when coordinating the kitchen and dining room lighting. To create an electric look in your kitchen and dining room, the light fixtures must be different from one another. At the same time, they should complement one another. Besides, you should focus on the scale.
Factor to consider when choosing the best kitchen and dining lights
You will enjoy the outcomes when you accurately pair your kitchen and dining lights. Hence, this is something you should not ignore. Following are some tips you need to keep in mind to help you choose the best kitchen and dining lights.
Consider your room styles
This is the first essential thing you need to consider to help you pair the lights in your kitchen and dining room perfectly. Gladly, you will find several types of lights suitable for several kitchen and dining styles. Therefore, take your time to look for the fixtures that fit your room's design.
For example, consider investing in smart ceiling lights for a modern and minimal kitchen and dining area. On the other hand, if your house has a traditional aesthetic, it is worth investing in an antique-style chandelier.
Pay attention to your budget
Your budget is another factor you must consider whenever you want to pair kitchen and dining lights. Make sure you only settle for lights that suit your budget and needs. In general, most of the lights are available at different prices.
Think of several fixtures
When pairing the lights, it is wise to try adding multiple fixtures. Before you make purchases, take time to research the different light fixtures in the market. Do not settle for the same dull lights when the market is full of different lighting fixtures that you can explore.
The specific area you need to hang the lights
You cannot just hang these lights anywhere. Make sure there is a specific place for combining the dining and the kitchen lighting. If possible, you can choose to concentrate on two areas. Else, you can choose to have the light on the center point of the dining room table.
Take time to arrange the lights to illuminate the kitchen and the dining room. Another option is to have the location of the light on the kitchen island. If you choose to have the lights at two focal points, it is wise to choose two lighting fixtures. Otherwise, it is advisable to select a complimentary design if your kitchen and dining room form a single big room or are adjoined.
Ensure the fixtures of the lights complement each other
The most crucial decision you can make while coordinating the dining and kitchen room lighting is choosing the light fixtures. Only choose lights that contrast with one another.
Consider choosing those fixtures that work well together. You can install a great pendant light in the dining room and a straightforward one in the kitchen. If you choose the same lighting fixtures, be sure to have dull rooms.
 When decorating your dining room and kitchen, it is wise to choose a slightly different lighting fixture. Choose at least lights for contrasting and combining. Even though you can choose more than two, they should not exceed four.
Choose the lights based on their functionality
How well the lights works is another important factor you need to consider. For example, if you decide on each room to have pendant lights, ensure they are sufficient for the rooms. When you pay attention to the lights' functionality, you might buy smart bulbs. Furthermore, you may consider choosing dimmers that you can adjust based on your needs.
Types of lighting for kitchens and dining rooms?
Luckily, you can choose several types of lighting for your kitchen and dining room. What to choose is dependent on your needs and money. The following are the most popular lighting types.
Chandeliers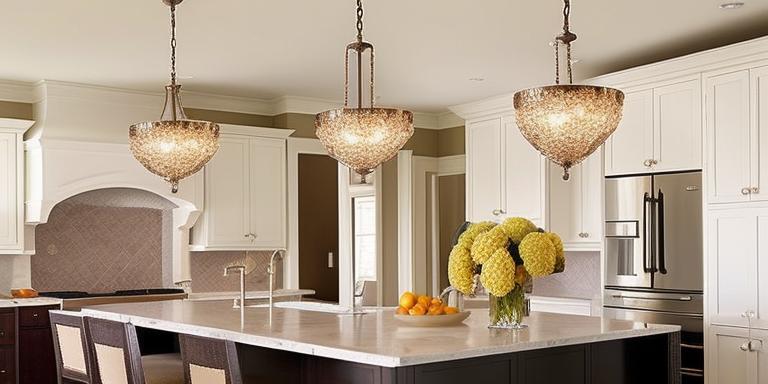 This is the best option you need to go for if you want luxury in your kitchen and dining room. Luckily, they come in different colors and styles. Hence, it is easier to choose the correct one for your space. Note that chandeliers are a bit expensive. So, if you are on a fixed budget, go for other types of lighting.
Pendant Lighting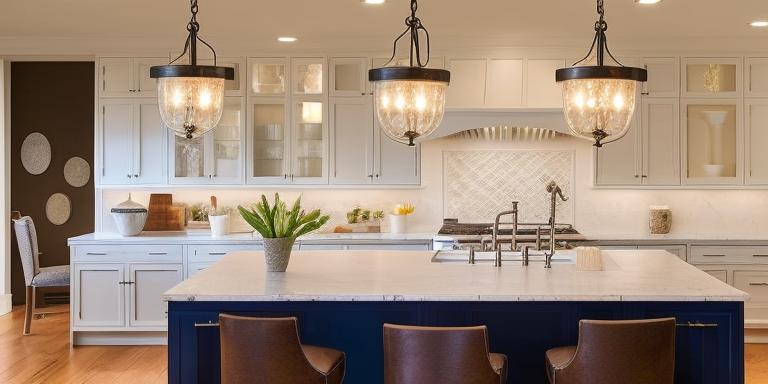 Regardless of your room's style, you can choose this type of light for your dining room and kitchen. Gladly, they come in different styles. Length is one thing that remains consistent with all pendant light fixtures. You realize that all pendant lights are low-hanging. The lights do well in any new and modern room. However, make sure you do not hang them too low.
Wall lights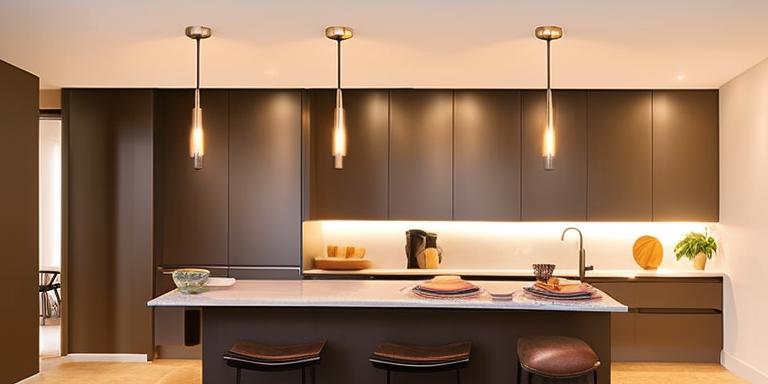 Even though these lights are not the most common choice, many people pair them with ceiling lights. In addition to giving you additional light, wall lights are known to add decoration to a room. Rather than covering your kitchen or the dining room wall with a painting, consider adding a sleek wall light.
Close-to-ceiling lighting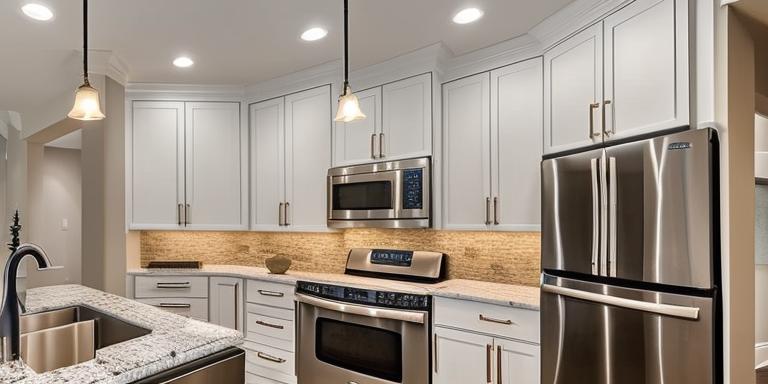 Use these lighting for your rooms if one of them has a low ceiling or if you choose to use smaller light fixtures. Besides fitting perfectly in many rooms, the lights do not risk injuring you. Fortunately, they come in different styles. Some are simple, while others are more extravagant. Before you choose one for your house, take your time to explore the various types of close-to-ceiling lighting. Doing this will help you get some ideas. They are simple and functional. And they can match any kind of interior furnishings.
Task lights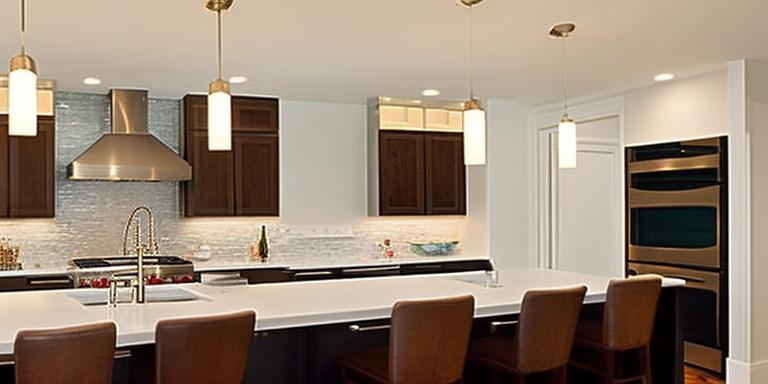 If you want several task lights to help you with several tasks in the dining room or kitchen, go for the standard light bulbs. The best place to put these lights is where you intend to eat or work. Also, you can have them in the dim areas of the room.
Table lamps
If you want more than a few task lights, go for the table lamps. These lights produce a great amount of light. Hence, they are the best for big kitchens and dining rooms. And because they come in different sizes and shapes, you can match them to any décor.
Frequently Asked Questions (FAQs)
Can you mix different light fixtures?
Yes, but there are different things you have to consider. One of them is the entire style of your space. For instance, it is worth sticking to one type of light fixture if you want to settle for a more traditional appearance. On the other hand, you can match different light fixtures if you have a more electric or modern space. When choosing the different fixtures, make sure they can complement each other in terms of finish and style.
Do kitchen and dining lights need to match?
No rule says the kitchen and the dining lights have to match. But, many people choose to coordinate their light fixtures for a cohesive appearance. When selecting the best light fixtures for your kitchen and dining room, there are several things you have to pay attention to. The first one is the entire style of your home. For a modern home, the best light fixtures to go for are sleek and contemporary. But, for a home with more traditional elements, go for the classic lighting fixtures.
What color light is the best for the dining room?
Soft white is the most preferred color for the dining room. It gives your room comfort and warmth. Furthermore, it adds an inviting touch to the dining table light.
Rita C. Donnell (Jennifer) has spent the last 26 years studying and practicing nutrition science. She has used a larger part of this time in improving people's livelihoods. She has done so by coming up with unquestionable ideas on how to tackle food problems in her community. Readmore