Pressure cookers are a must-have gadget in any home or commercial kitchen. It can cook pork, chicken, beef or any other animal meat nice and tender in half of the time of a traditional cooking pot. That is why I am going to share with you a perfect cooking pot that cooks food in less time using its ultimate pressure power technique. So let's start the Presto 8 Quart Stainless Steel Pressure Cooker review from here.
The Presto Stainless Steel Pressure Cooker is simple to use yet great at cooking a large portion of the meal. It has sturdy metal body and lid that good at dealing with heat, pressure, oil, and acids. Its great craftsmanship gives users a pleasant experience by serving a dish that is 100% great in texture, color, text, and tenderness.
What You Will Discover From Presto 8 Quart Stainless Steel Pressure Cooker Reviews?
Some Important Features of Presto 8 Quart Stainless Steel Pressure Cooker
Here are some crucial characteristics that make this pressure cooker special yet practical. Read on to learn about these useful features.
Perfect size and structure
The 01370 Presto stainless steel pressure cookers are made of stainless steel metal and have a tri-clad base. This bottom has an aluminum disk which enclosed in between two layers of stainless steel. This kind of construction gives more heat conductivity and equal heat distribution. It is also non-reactive to different types of food and fairly durable. With this base and construction, you will get much flexibility to use, carry and clean.
This 8 qt pressure cooker can cook lots of dishes. You can make a whole chicken, big pot roast or 3/4 racks of ribs very easily.
Safety features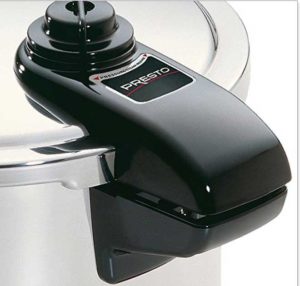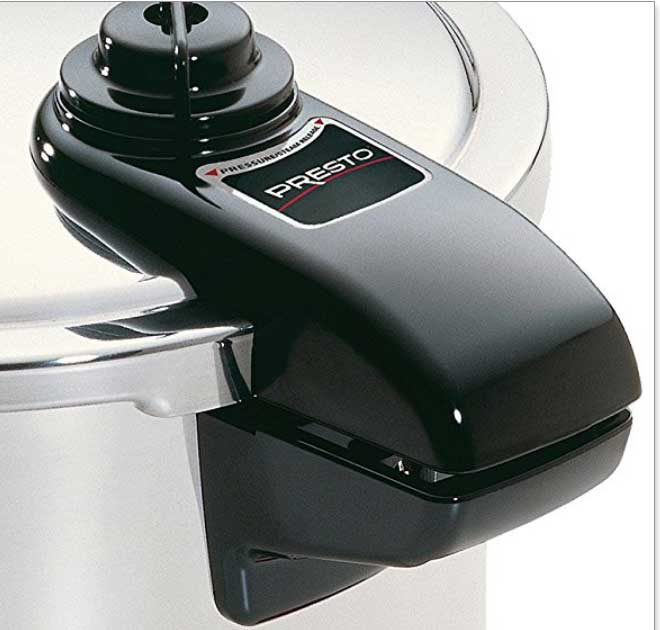 Compare then the previous model this one has got some improvements which reflect at the first sight. The lid of the cooker has two short handles. The older one had one long and one short handle to work with. The handles give you better control while removing it from the cooktop or pour the liquid into other pot. These are good at transport and balancing the weight.
The lid has vent lock, pressure regulator, and the overpressure plug. Presto has only one level of pressure- 15 pounds per square inch. Different food needs different pressure to cook properly. You can manually adjust the cooking duration to utilize the pressure level. There is a presto pressure cooker time chart on its website to learn how long meat, veggies, and another type of foods need to cook according to their amount.
Clean up is a breeze
The cooker is suitable to use in the dishwasher. If anything burns pour hot water into the pot and let it rest for 20 min. Then scrub it with your normal scrubber using few drops of liquid soap. While going to wash it in dishwasher remembers to remove the gasket, pressure regulator, and the overpressure plug.
Versatile cooking pot
The pressure cooker is good at multiple cooking. It comes with a stainless steel basket for steam cooking. So while you are making stew you can also prepare some seafood as well or some dumplings. The cooker has a tri-clad base which allows it to use on all cooktop including electric, ceramic and induction.
At a Glance
Stainless steel 8.85-pound pressure cooker.
The pressure cooker is 10-1/2 inches in diameter and 8-1/2 inches in tall.
Includes pop-up pressure indicator, over pressure plug, and vent pipe.
Comes with an instruction guide and a booklet contains 75 recipes from basic stew to pumpkin custard.
Bonus a stainless steel steam basket with shallow handle.
8 qt size is good to make food for 6-8 members.
Positive Aspects

Cook all type of food especially meat protein with perfection within a short time.
Maintain proper air pressure and spread temperature evenly.
The steam release valve gives effortless fast cooling benefit.
The cover lock indicator shows either the lid is good to open or not.
Stainless steel steam basket to steam veggies or seafood without intermingle the flavors.
Negative Aspects
Gives troubles sometimes to get the lid on and off.
It may slightly burn the food in the first few usages.
FAQ
Q- Is the pressure cooker fit for using an induction cooktop?
A- Yes, it is.
Q- Where the pressure cooker made in?
A- It made in China, but surely the best quality product of Chinese craftsmanship.
Q- Is the pressure cooker suitable for canning?
A- No, it's not made for canning.
Q- Does the cooker have 'Jiggler' so one can understand the pressure in properly maintained?
A- Yes, it has.
>>>Check Price on Amazon<<<
Pro Tips for Using Pressure Cooker
Here are some easy but essential tips to follow in order to maintain your Presto pressure cook. Have a look down below.
Don't cook for a long time without on the lid. A pressure cooker loss its quality if it's on the heat for a long time while completely lidless. If you need to sauté for a while before going to start the main pressure cooking, do the part in a separate a pan and then move the ingredients in the pressure cooker.
Don't use metal scrubs, knife or penalty tools to remove burnt food. If anything burn soaks it for a while then scrubs it well with a sponge.
Always keep an eye on the pressure vent to see how it's going. If the air pressure leaks vastly remove the pot and reset the lid after checking the vent pipe and ring well. Many Presto pressure cooker troubleshooting videos are available on YouTube to deal with similar kind of problems.
Don't pour excess liquid/food/water that crosses its recommended capacity.
If not necessary try not to clean up the pot in the dishwasher for regular. It will help the pot remain strong and live for some more years.
After done with cooking and cleaning always make sure to store them after proper drying. At first wipe, the washed cooker with a dry towel or kitchen tissue then let the lid and pot rest in the air before storing them.
Conclusion
Overall, the pressure cooker is very simple in order to use, clean and all. You will also get the presto 8-quart pressure cooker manual with box. It will help you a lot to understate about the cooker. If you are thinking the 8qrt would be a little large for your family then nothing to worry. The brand also offers Presto 6 Quart pressure cooker and Presto 4 Quart pressure cooker for the small-medium family. Specify the second one is ideal for 1-3 people.
So, if you want to invest in something trendy well working and reliable then there is nothing better than presto 8-quart pressure cooker. It not only cooks dishes within a short time but makes it rich juicy, and testy just way one can like.
Rita C. Donnell (Jennifer) has spent the last 26 years studying and practicing nutrition science. She has used a larger part of this time in improving people's livelihoods. She has done so by coming up with unquestionable ideas on how to tackle food problems in her community. Readmore