A food processor can be your best kitchen mate if you succeed to find the right one. I have found something close to "Perfect food processor" from Cuisinart brand and in this Cuisinart 14 Cup Food Processor review, you will know why I become a fan of it.
If you are a busy mom who needs to manage all the work in time, then you need a food processor like Cuisinart. Also, many people who AVOID making little-complicated dishes due to numerous amount of spices/vegetable cutting or making a paste of spice, pure, etc. will definitely adore this one. I know this because I am also a lazy cook and always avoid making dishes like lasagna, stew or my ultimate favorite pot roast.
But after experience with the food processor, I am now more into like experimenting with dishes ingredient and test; because half of my work has been done through this amazing unit.
Start to know More Details form Cuisinart 14 Cup Food Processor Reviews.
Some Essential Features of Cuisinart 14 Cup Food Processor.
What makes the Cuisinart 14 Cup Food Processor so special? Well, here are the reasons why?
More Power
The food processor of Cuisinart offers you high power performance that manages to work with all kind of food ingredients. Its HEAVY motors did crush and cut within a blink of an eye. This 720-watt power motor produces so much power that easily crushes dry spices but is surprisingly so noise free.
Higher Capacity
The processor offers 14 cup work bowl to process any food ingredients. This size is perfect for making family size meal. Depending on what is going to make it produce food 4-6 people easily. Most of the time one single batch is enough to make your family meal. Sometimes it may need to make two batches, but not then more if you are not making food for a party or something.
Easy to Find Accessories
The processor only comes bowl including a feeding tube and the motor base. You can use some other accessories like juicer cup, spices bowl, etc. for more versatility. You will find many additional parts and accessories of this model in Cuisinart's website.
Expert Results
The set includes three professional-grade blades- chopping, slicing, and shredding. These blades are made of stainless steel and very durable. You can use them for many years even after heavy usage. With the blades, you can prepare any task from single onion to pizza dough.
Easy Controlling Features
Not only the power a well-managed, user-friendly control panel makes the working experience even better. And thank god the engineers of the food processor remembered that. For run the motor it has two giant (not so HUGE! but big) buttons. Although, these buttons are very robust in construction but gentle on the response. With a single touch of your finger, it will start working or stop working.
Delicious Recipes
I know a food processor can help you to make all testy dishes but this 14-cup food processor can encourage you to try something new too. There is recipe book comes with the processor set containing lots of exiting, healthy, delicious recipes. The recipe book is a welcome addition to its user.
Safe & Versatile
The maximum processor comes with either plastic or metal made bowel. Metal made bowls are safe in comparison to plastics. But nowadays governments of every part of the world are strictly maintaining the law of using food grade quality plastic utensils. This food processor has the Lexan bowl which SS. Steel wrap 1 metal copper/black plastic coated two-sided stainless steel housing motor base.
However, with all the usual cutting blades and all you get the dough blade, whisk attachment to utilize. Also, the specialist disc set of the processor offers French fry cutter, 8mm slicing disc, and a gratings disc.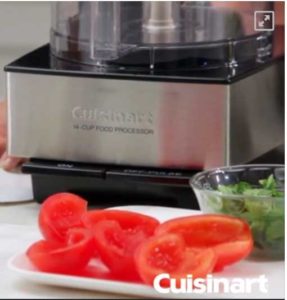 At a glance
Large capacity 720-watt food pressure.
Intuitive on/off/pulse buttons.
Comes with a shredding disc, slicing disc (2mm, 3 mm, and 8 mm), and chopping blade.
Transparent 14- cup Lexan work bowl.
Extra-large feed tube with small and large pushers.
Detachable stem disc.
Includes flat cover for work bowl, blade and disc holder
Positive Aspects
Simple and efficient food processor for different types of cutting, slicing, grating, chopping, etc.
All the parts of the process are dishwasher proof.
Work fast and can make a large portion of food in a short time.
You will find several additional accessories in market or Cuisinart website for use.
Durable construction, don't BREAK if accidentally dropped.
Negative Aspects
Dirt/grim easily build up inside the blade ring which little difficult to remove entirely.
Dealing with Cuisinart customers support is a little difficult.
FAQ
Q- Can I grate hard cheese in this processor?
A- Yes, chop the hard cheese before grating them.
Q- Can it crush ice?
A- Not mentioned in the product description. So avoid this part if you don't want to risk dulling the blade.
Q- Can it cuts cabbage thinly other they make it mushy?
A- Use the slicing disc to get thinner and clean cut, it can slice cabbage about 1/4 inch wide.
Q- Is the bowel BPA free?
A- Yes, it is.
Conclusion
A right type of tool can save your time and energy when it comes to food preparation. And you don't need to spend an hour long only for cutting, slicing, grating and all. And Cuisinart saves a lot of time compare than any rational food processor. Infect now you can invest your saved time on cooking, plating, food presentation etc.
You can use this food processor either for you busy home kitchen to extra busy commercial business kitchen. Many professional chefs use it in their kitchen and suggest it to others. This unit does everything it's designed to do beautifully. So if you take a little care in order to maintain Cuisinart 14 Cup Food Processor's performance, you will get the best from it always.
You can also try two other best products like Cuisinart 4 cup food processor and Cuisinart Mini Prep Plus. These are offered the same workability but the capacity of these comes down little low comprising to the first one but ideal for the small family though.
Rita C. Donnell (Jennifer) has spent the last 26 years studying and practicing nutrition science. She has used a larger part of this time in improving people's livelihoods. She has done so by coming up with unquestionable ideas on how to tackle food problems in her community. Readmore